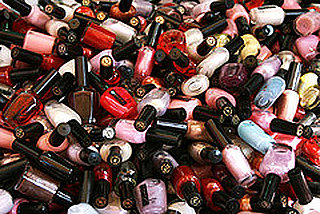 Me?
Yes!
:D
It was a black nail polish by an Australian brand called Ulta3!
They are only $2 each at pharmacies!!
By finish I mean there was like 2.769872% nail polish left and there was no way I could get anymore nail polish out! It decided to gloop up and yea... tossed it!
I also have finished a few mini bottles of Seche Vite Top Coat!
Too many to remember actually! Lol! They are so tiny!
Very cute but they goop up super quick too!! -_-
I can't imagine having the full size & having to mess around with nail polish thinner!!
After some internet research I found that it is not uncommon for people to NOT finish a whole bottle of nail polish... many of the answers received for the question of this post was a firm "NO, NEVER!!"
Here are a few answers I found interesting...
"What qualifies as "finished" for a bottle of nail polish? I get fed up when the brush doesn't reach the polish anymore and the polish is thick from being exposed to the air after so many uses..." - Source here
"I have got to say I have never finished one. It is just one of the wonders of life you know."
- Source here
"I have never finished a bottle either, but in reference to the people saying that you can't finish a bottle because the brush isn't long enough, maybe nail polish companies follow the same policy as nailtiques (who make the strengthening formula no. 2). The say on their website that "The brush is designed not to touch the bottom of the bottle, but we will assure you that no liquid amount is lost because of the brush length. If the bristles were designed longer, they would eventually curve at the ends, not allowing the formula to be applied smoothly. For this reason, each bottle is filled above its stated capacity to compensate for the remainder of liquid left in the bottle."" - Source here
Have you ever finished a bottle polish before?